Houston's $6 Billion Census Problem: Frightened Immigrants
By
October 26, 2018, 4:00 AM CDT
Fears of deportation could leave thousands of people uncounted

City is partnering with Hispanic Chamber on outreach project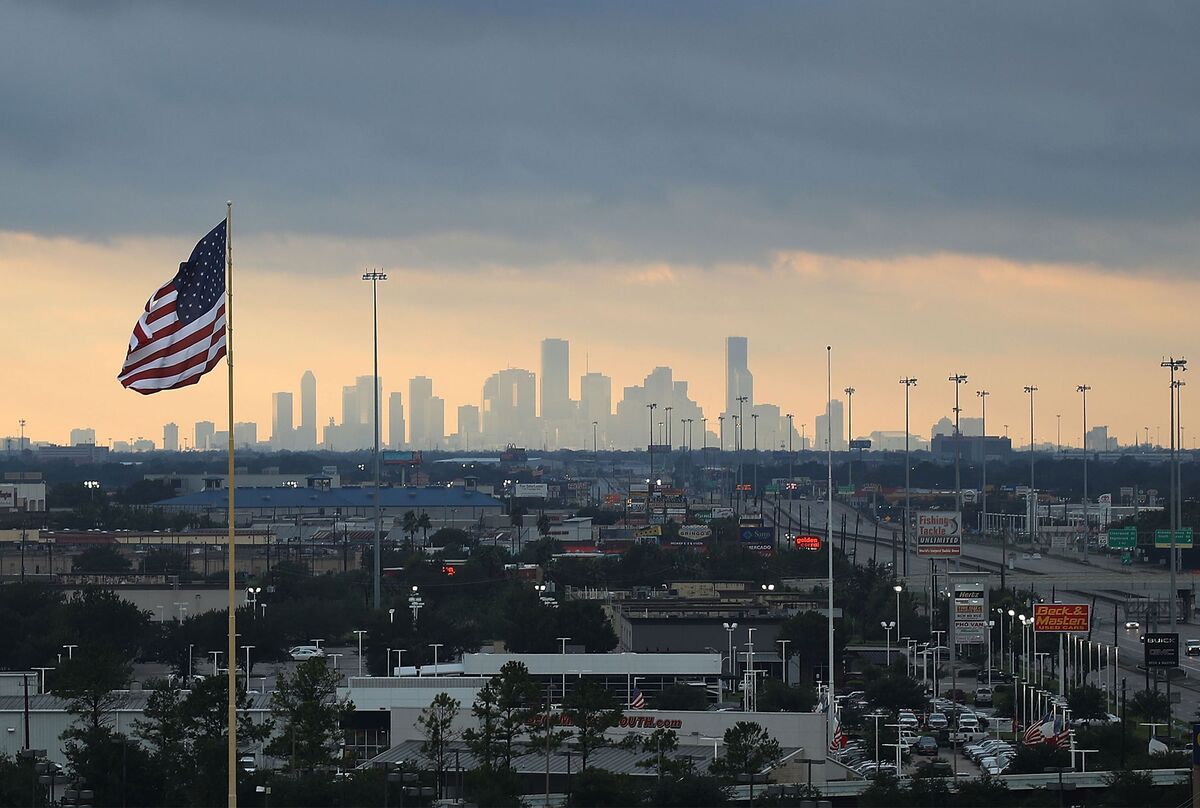 The Houston skyline.
Photographer: Joe Raedle/Getty Images North America
At Houston's City Hall last week, Mayor Sylvester Turner gathered with company CEOs, university professors, police officers, politicians and local judges to discuss a $6 billion problem they all have in common: the 2020 census.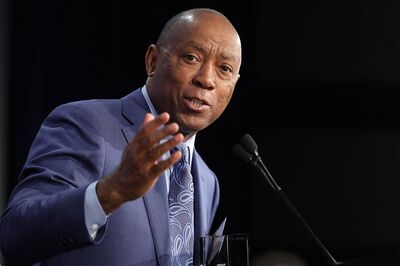 Photographer: Chip Somodevilla/Getty Images
City officials and business leaders are worried about people like 21-year-old Ana Espinoza, a U.S. citizen by birth who lives with undocumented relatives. Espinoza has no intention of answering the census because she worries it could expose her family and get them deported.
"I'm scared," she said. "If they go, I'll be by myself."
In a region where 37 percent of immigrants are undocumented -- the largest proportion in the country -- the 2020 census has already become a case for crisis management. Every person who goes uncounted represents a loss in federal funding, which means fewer resources for roads and schools and health care.
More than just money, the census helps companies plan expansion and staffing to serve a multicultural population. And "political representation, how we draw lines," are all determined by an accurate count, the mayor said.
Outreach Effort
The Oct. 18 gathering of city and business officials marked the launch of a joint project by City Hall and the Houston Hispanic Chamber of Commerce to make sure as many people as possible are counted. With more than a year to go before the census-taking kicks in, Houston is coordinating an effort among diverse stakeholders that it believes can serve as a model for the rest of the country.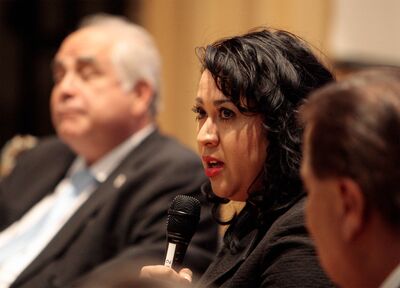 Photographer: Bob Levey/WireImage
Getting an accurate count has broad economic implications across the city, said Laura Murillo, chief executive officer of the Hispanic Chamber. "For everyone, the census is important. It doesn't matter if you're a Republican or Democrat, black or white or green."
For growing businesses, the census is crucial for understanding the population they're serving in different regions. Enterprise Rent-A-Car used the 2010 census to help diversify the company's employee base. The data prompted Enterprise to staff a new location in Houston with Spanish-speaking employees to better serve area customers, said the company's human resources manager Phil Dyson.
"It's been one of our top locations," he said.
Doing the Math
Texas stands to lose at least $1,161 in federal funding for each person not counted, according to a March report by Andrew Reamer, a research professor at the George Washington Institute of Public Policy. Multiplied by the estimated 506,000 unathorized immigrants who live in the nation's fourth-largest city, that puts at stake about $6 billion for Houston over the 10 years the census applies.
That's just for programs such as Medicare and Medicaid. The potential loss is even larger when grants are taken into account for items like highways and community development, he said.
Gaining Ground
Hispanics are making up a larger share of Houston's population
Source: U.S. Census Bureau
There's more reason to worry: In trial runs conducted by the U.S. Census Bureau in 2016 for Hispanic neighborhoods in Houston and Los Angeles, as much as 30 percent of the population didn't respond to survey requests, even after workers tried six times, according to a report on 2020 preparations by the U.S. Government Accountability Office.
Logistical Nightmare
"It's a problem for the mayor of Houston," said Steve Murdock, a former director of the Census Bureau appointed by President George W. Bush. "If they are under-counted, he's got a lot of people that they are going to have to provide services for, and he might not get any assistance from the federal government to do so."
Every census poses a massive logistical challenge, but 2020 brings a fresh set of obstacles. The government will depend heavily on internet-based forms, making it more difficult for the poor or elderly who may not have computers. The U.S. population has become more mobile, making people harder to track down. And in Houston, thousands remain displaced from their homes after Hurricane Harvey's flooding.
Most worrisome for city officials: A controversial citizenship question has been added, which some fear will scare off unauthorized immigrants and even their documented relatives, like Espinoza. The matter is in federal court in New York after the American Civil Liberties Union and more than a dozen states, cities and counties sued the commerce department, saying it's discriminatory and will reduce the accuracy of the count by lessening participation.
Deportation Fears
Espinoza left to live in Mexico nine years ago when her mother was deported, but came back to the U.S. when she was 18. She and her 4-month-old child now live with relatives, some of whom came here illegally. They're all worried about what the census will mean for their family, she says.
"As long as the census is perceived as a means of potentially enforcing immigration laws, it will be difficult to overcome the potential for under-counting," said Ray Perryman, an economist in Waco, Texas, who sees border states at particular risk of a "substantial under-count."
Immigrants aren't the only population that poses a challenge for census takers, said Margaret Wallace Brown, a city planner who's spearheading Houston's census effort. Frequent movers, single-parent homes, the poor and less educated, and anyone who mistrusts government will be hard to count. Millennials, who have the lowest voter turnout rates of any generation, could also be difficult to reach.
Media Partners
For the Houston census project, Murillo's chamber has partnered with 20 media outlets, including local English and Spanish-language TV and radio stations in the area to spread the word about why the census is important. The chamber has collected $1.3 million in advertising donations so far, including billboards and print ads to help in the effort, Murillo said.
The city will recruit volunteers from churches, community centers and other nonprofits to set up computer centers in neighborhoods where people can fill out the surveys, she said.
A key part of the message will be to reassure people that the census is not part of an immigration enforcement sting. "No one is going to take the information and use it against you or your family members,'' Mayor Turner said.
People have often ignored the "power and the breadth of the Hispanic community," said Debbie Ortiz, director of development at the Association for the Advancement of Mexican-Americans in Houston. Hispanics account for $54 billion in spending power in the city, according to the chamber.
If individuals in the community don't raise their hands to be counted, Ortiz said, "It's like they're not even there."
As published by Bloomberg
https://www.bloomberg.com/news/articles/2018-10-26/houston-s-6-billion-census-problem-frightened-immigrants