Chase CEO Jamie Dimon visits Fifth Ward, TSU in grand opening of new community center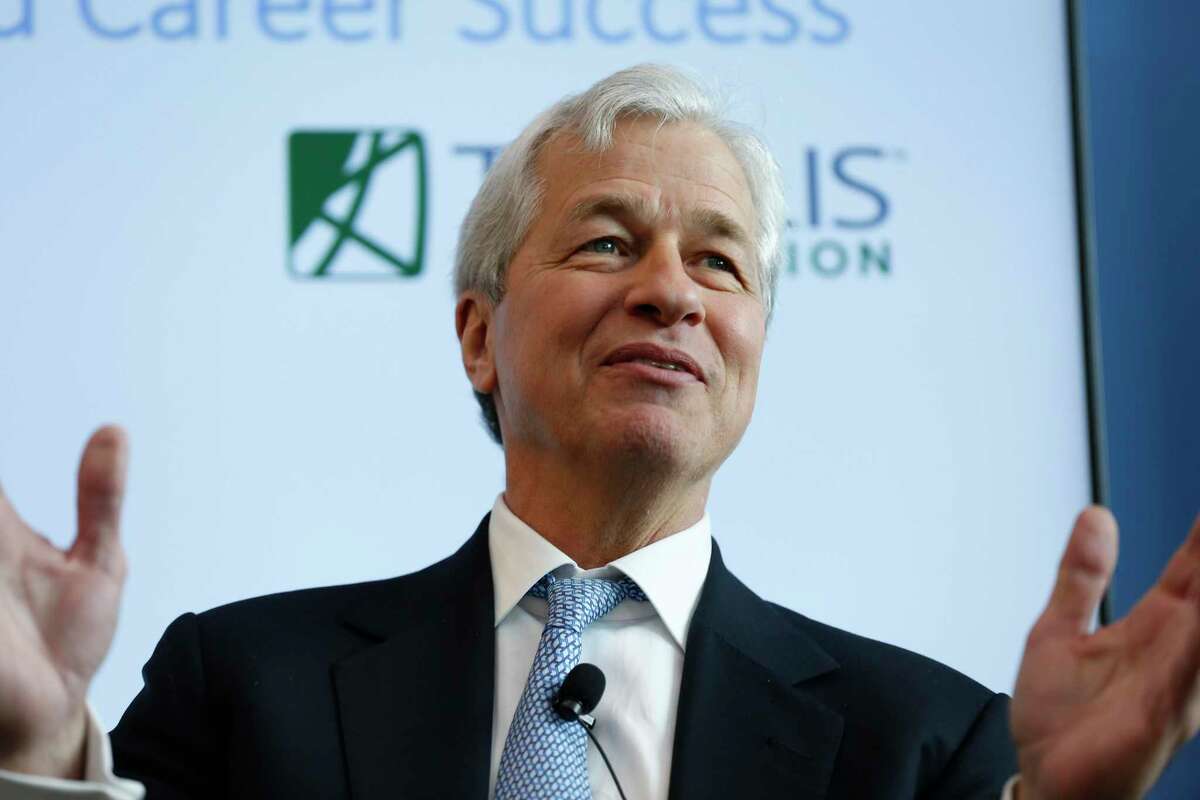 Jamie Dimon, chairman and CEO of JPMorgan Chase, visits Houston today as part of his bank's $30 billion Racial Equity Commitment.
Steve Gonzales, Houston Chronicle / Staff photographer
Kale Me Crazy, a health-focused restaurant in the Heights, might not exist if owner Latosha Rutherford hadn't gotten a loan from JPMorgan Chase.
Rutherford said she faced "a huge gap" in funding for her dream business, which opened during the summer with help from Chase's $30 billion racial-equity initiative.
"It just gives you the flexibility to make your dreams come true," Rutherford said of the capital infusion. "We didn't have to cut any corners."
Chase, America's largest bank, aims to help more businesses like Rutherford's by launching a community center at its branch in Fifth Ward, where the bank hopes to help more Black and Hispanic Houstonians open accounts, manage their money, start businesses and buy homes.
Jamie Dimon, chairman and CEO of JPMorgan Chase, visited the center Wednesday and also stopped at Texas Southern University, where he announced a $1 million investment aimed at bolstering the recruitment pipeline Chase is building with historically Black colleges and universities. The funding supports TSU's Future Bankers Leadership Program, which started this fall. Dimon said Chase has partnerships with about 20 HBCUs.
Kameron Pree, a sophomore studying accounting at TSU and vice president of the program, said during Dimon's visit to the campus that he spent the summer working as an intern at the Federal Reserve Bank of Dallas and hopes to work in commercial banking after graduation. The program, he said, is helping him explore his interest in finance.
"At Texas Southern University, we're committed to transforming lives," university President Lesia Crumpton-Young said. "And what encourages me the most about today is that we have a partner that's also committed to transforming lives and making a difference, and that's JP Morgan Chase."
Dimon told the Chronicle that he and other business leaders — including those involved in the nonprofit Business Roundtable, an association of CEOs from companies such as Walmart, Apple and PayPal — started talking after George Floyd was killed in May 2020 and they agreed: "We all gotta do more," acknowledging that public policy continues to fail low-income residents who don't get the education they deserve.
Chase isn't the only bank working on racial equity. Big banks including Wells Fargo, Bank of America and Citizens also have announced wealth equity initiatives since Floyd's death.
"This country is the greatest country on the planet — I'm unabashed about it," Dimon said. "That doesn't mean we can't acknowledge … the people we left behind, the things we didn't do exactly right."
Now, Chase is on a mission to address the racial wealth gap in America and the structural racism underpinning it.
The net worth of a typical white family, $171,000 in 2016, according to the Brookings Institution, was almost 10 times greater than that of a Black family, estimated at $17,150. And since the financial crisis of 2007-09, the racial wealth gap has only continued to grow.
Chase launched its racial equity project last year and plans to spend at least $30 billion over five years through loans to low-income residents, educating people about money management, supporting affordable housing and backing minority-owned businesses.
Nationally, Chase says, it has provided more than $6 billion in loans to help preserve more than 60,000 affordable housing and rental housing units. Chase also plans to spend $2 billion on philanthropic targets including grants, low-cost loans and direct equity for those who need it.
The community center in Fifth Ward is one of 10 in the nation so far, the company said.
In Houston, the center will focus on expanding homeownership, said Lawrence Bailey, the bank's head of community and business development.
In the majority-minority city, the homeownership rate for African-American households is 29.4 percent; 38.4 percent for Hispanics; 44.4 percent for Asians and 56.3 percent for whites, according to the Kinder Institute.
"If you think about what homeownership does in terms of building wealth and stabilizing community," Bailey said, "that's an opportunity and that's why we're here."
The Lyons Lockwood bank branch, built in 1993, was renovated to host the new community center. The center's community manager, Kim Evans, called the branch "the house that Barbara Jordan built," referring to the first African-American woman to serve in the Texas Senate and who later served six years in the U.S. House. Jordan lobbied to have the branch built.
Still, she said, large swaths of Houston don't have banks.
"You go over by Hobby Airport, you can drive for blocks and blocks and blocks and miles and miles and not encounter one bank, not one," she said. "And in 2021, you have to ask yourself, how is that still possible that there are disparities like that in communities."
Laura Murillo, president and CEO of the Houston Hispanic Chamber Commerce, said Chase will have work to do to build trust within the community, recalling how her own family would cut holes in walls to store money because banking intimidated them.
Evans' role at the community center is "to engage the community at a granular level." She said she spends at least half her time offsite meeting people and getting the word out about free services Chase is offering — it's not "the bank of the rich" as many Black and Hispanic Houstonians believe, she said.
"We weren't out there talking about consumer products, checking accounts and you know, business products. We were out there talking about stuff like hey, let us help you with your credit. If you have a problem with it, let us help you build your credit and show you how to do it yourself."
As published by the Houston Chronicle https://www.houstonchronicle.com/business/article/Chase-CEO-Jamie-Dimon-visits-Fifth-Ward-TSU-in-16568047.php